Dear all.  The equipment to measure the sleep and physical activity has arrived.
I have received a 3D accelerometer (or fancy pedometer) which has a few functions and niceties.  It is small, light and clips on to my belt or trousers.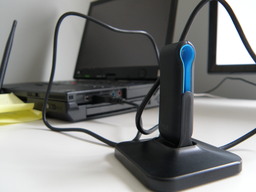 It has 5 functions:
1. steps taken today and distance travelled:

2.  Number of floors climbed and general activity score for today

3. And finally, when I wear it at night, movement experienced through the night.
To see the data from the last few days you can visit my online profile : http://www.fitbit.com/user/22K9KJ
Also I have received the brainwave recorder.  It uses dry EEG technology  and data processing to measure the brain waves and transmit them to a phone by bluetooth.
I'll explain more about how it works in later posts but here are the first screenshots: